Crap.... 12 cm!!
Akhirnya masukin jahitan juga :)
Aga muter-muter si sebenernya... soalnya ga semua Tailor bisa xP kalopun bisa pasti kenanya mahal XD akhirnya nemu juga yang khusus Modes... syukur-syukur juga deket rumah loh xD
Dan... cosplay ori pertama, kok jadi totalitas gini ya -_-a
Maunya biasa aja, focus cuma ke dress:
maid
.
Trus gini...
Mumpung kemaren-kemaren banget aku uda naksir ama sebuah dress yang ku lihat di salah satu butik di Royal... akhirnya kmaren jadi deh masuk tu toko XD uwh dapet deh ini!!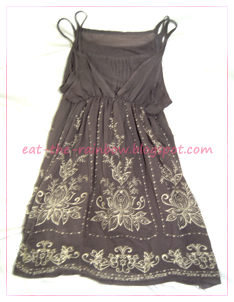 Namanya uda sampe mall...keliling-keliling akhirnya masuk di tempat yang penuh dengan alas kaki untuk cewe. Wow I never tought I would go to that kinda store
alone
without my mom!! In my own will! XD *rofl*
Lihat-lihat nyoba-nyoba...pertamanya sih sandal, trus beralih ke sneakers, trus menhabiskan waktu sangat lama di tempat vantovel dan highheels!! XD mikir-mikir lagi... bagus juga kalo sekalian bisa dipake buat cosplay maid... akhirnya mulai deh memasukkan semua white highheels dan prada XD dapet yang pas... namun harganya XD dompetku ga nyampe! Wahahaha
Eh ya sampe ada yg pas banget... sampe mbaknya mondar-mandir nyariin ukuranku... pas ta coba, sip beli ini! eh eng ing eng heel yg sbelah kanan patah x___x waaahhh maafkan saya tapi karena patah itu makanya saya jatoh. Bukan karena jatoh trus patah @_@; waaaahhhh tapi mbaknya bilang gapapa sepatunya yg wis mau jebol....saya jadi merasa ga enak. Saat itu lah ada spongebob dari langit mengarahkan mataku pada sebuah sepatu hitam di rak dengan tinggi heels
12 cm
!!!
GOSH....
Akhirnya dengan waktu yg sangat singkat, terbelilah benda ini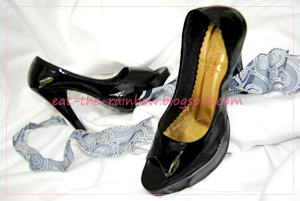 Astaga berasa totalitas sekali cosplay kali ini... habis, 12cm ini pasti berabe juga kalo dibuat keluar jalan-jalan XD wakakakaka
Berarti... harus pake stocking putih ^^a ga jadi pake hitam. Yang berarti... kaki saya akan terlihat semakin besar karena warna putih itu memberikan kesan
besar
XD
Nanti deh kalo uda jadi overall, bakal foto2 yang banyak yang bagus XD wkwkwkwk Rencana perming juga ni wakakakaka rambut pendek lucu kali ya kalo di perm XD
Doodles ♥
Labels: entry